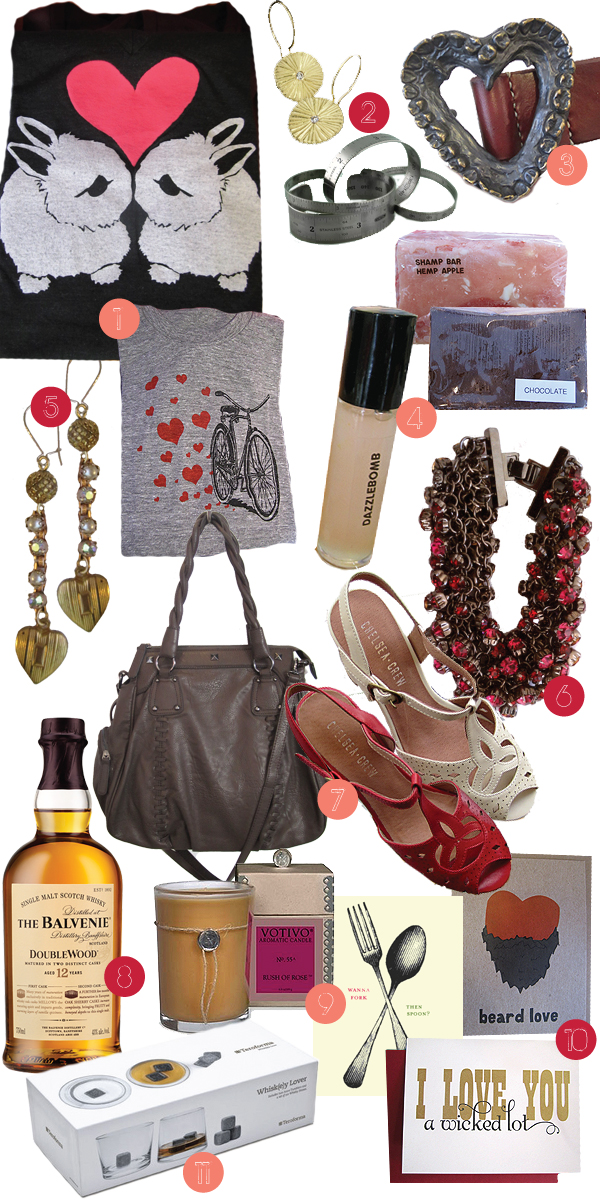 1.
T-Shirts from Craftland in many styles with great graphics for guys and gals.
2.
A few features from Craftland's upcoming Jewelry Trunk Show this Saturday the 12th-Sunday 13th. Gold earrings from Dahlia Kanner Studio, metal ruler bracelet by LeeAnn Herreid.
3.
"Murmur" hand cast belt buckle by RT Peters at Heir Antiques.
4.
Beautifully scented, all natural local bath and beauty products from ZOP Soap. Chocolate (yum!), apple shampoo bar, and new to ZOP, their delcious scents available in perfumes: such as top seller Dazzlebomb.
5.
Sweet locket earrings from Queen of Hearts, where you can find a huge selection of great, affordable and locally made jewelry!
6.
Pink rhinestone bracelet at Clover, where you can find lot's of great accessories and beautiful clothing...for guys too!
7.
Modern Love: handbags, accessories and shoes. She'll love anything from here...trust us.
8.
A pick for the boys, ladies love whiskey too! 12 yr Balvenie DoubleWood single malt Scotch at Eno.
9.
Homestyle has got a great selection of gifts: too many to list here! Votivo scented candles are heavenly, and Blush of Rose is one of their newest..."let's fork, then spoon"...Homestyle has the perfect Hallmark alternative with a beautiful selection of romantic and cheeky V-Day cards.
10.
On the card subject, Craftland, as always, has an awesome selection of locally designed and screen printed cards with just the right sentimate. Tell your sweetie you love them "...a wicked lot" Rhode Island style!
11.
The perfect pair with the whiskey you picked up from Eno, the very popular Whiskey Rocks at Homestyle chill any libation without watering down that perfect taste. Here in a set with two glasses.